Amazon CloudFront¶
Amazon CloudFront is a "content distribution network" that speeds up distribution of your static and dynamic web content to your users. CloudFront delivers your content through a worldwide network of data centers called edge locations. When a user requests content you're serving with CloudFront, the request is routed to the edge location with the lowest latency (time delay.) This allows your content to be delivered with the best possible performance.
If the content is already in the edge location with the lowest latency, CloudFront delivers it immediately.

If the content is not in that edge location, CloudFront retrieves it from an origin that you've defined—such as an Amazon S3 bucket, a MediaPackage channel, or an HTTP server (for example, a web server) you designate as the definitive version of your content.
Observe helps you monitor the health and activity of CloudFront with:
A dataset that represents the core abstraction in CloudFront: a "Distribution". This dataset helps you maintain an inventory of all of your Distributions, and inspect their configurations over time.

A monitoring Board that gives you at-a-glance insight into the health of your distributions (for example, request error rates and origin request latencies).

Additional datasets to inspect real-time Access Logs and CloudTrail Events related to your Distributions.

Sample Monitor configurations you can configure to enable proactive alerting upon degradation of any CloudFront Distribution's health.
The sections below describe how to configure CloudFront ingest and view details about your distributions in Observe. If you have already configured CloudFront ingest, jump to View CloudFront activity in Observe for more about exploring CloudFront data.
Setup¶
Ingest CloudFront data with the AWS Integration¶
CloudFront ingest is a component of the Observe AWS integration. If you aren't using the latest version, contact us about updating your ingest configuration.
Because CloudFront is a global service (not configured separately for each AWS region), the AWS Integration must be installed in the us-east-1 region. This allows it to collect CloudFront data from all regions.
Basic CloudFront collection includes configuration snapshots and CloudWatch Metrics for AWS CloudFront. You may also enable these optional data sources:
Observe does not currently support collecting CloudFront "Standard Logs" via an S3 bucket. Instead we recommend real-time logs, as log delivery is more timely and more configurable (for example, only log certain cache behaviors). If real-time logs do not meet your needs, please contact us to discuss your infrastructure details.
Optional: enable real-time access logs¶
To collect real-time access logs, you will need the following resources in AWS:
A Kinesis Data Stream, to serve as the destination for your real-time log configuration

A Kinesis Data Delivery Stream, to deliver Kinesis Data Stream records to Observe

A CloudFront real-time log configuration, attached to your CloudFront distribution
The instructions below summarize how to create these resources in the AWS console. For additional information, see [Real-time logs](Real-time logs) in the AWS documentation.
View CloudFront activity in Observe¶
To see details of your distributions, go to the "CloudFront Distributions" dataset in Observe. Select the "Monitoring" board to view an overview of the activity and health of your CloudFront distributions.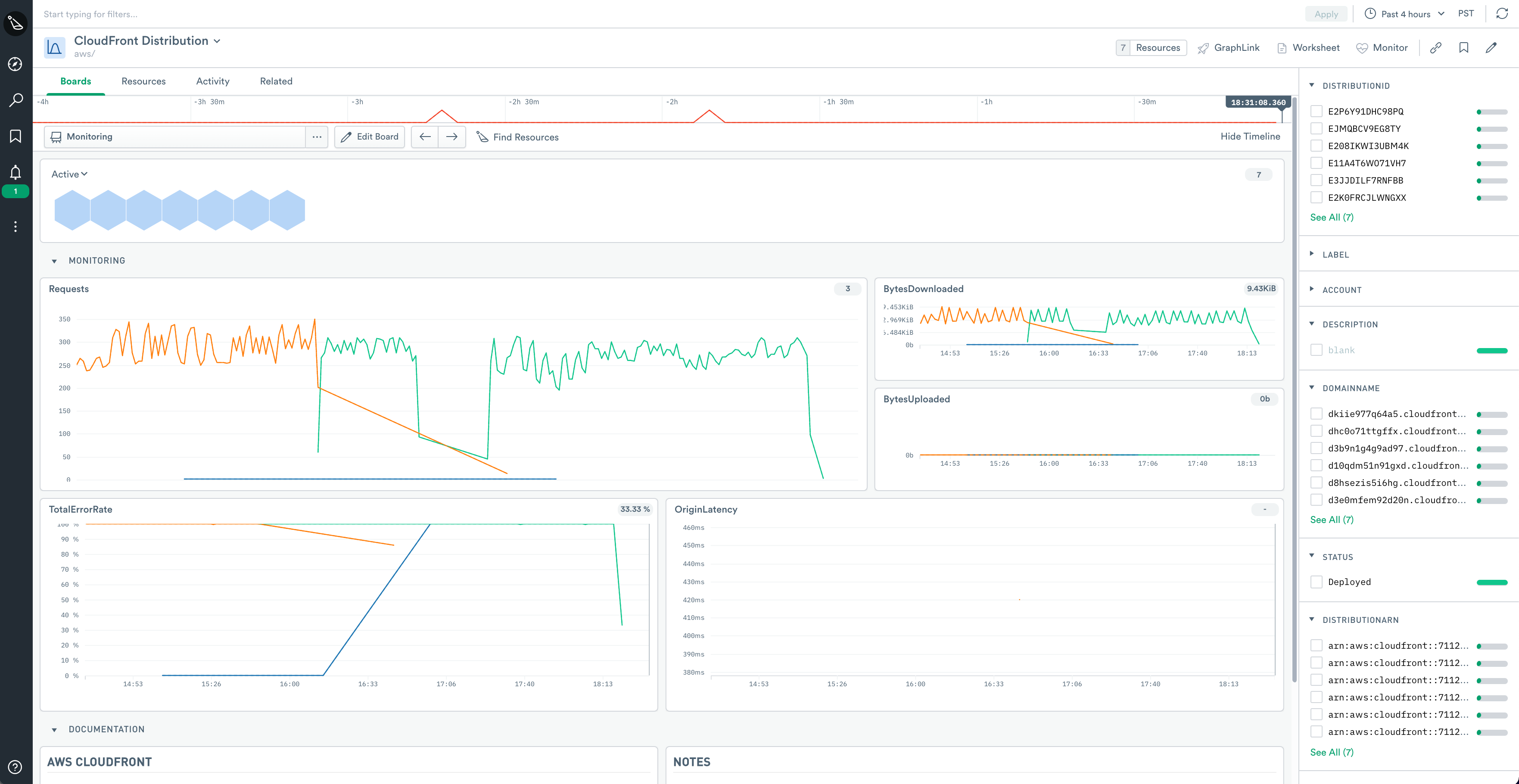 This board includes several metrics useful for performance and health monitoring, including:
Requests: How many requests your CloudFront Distribution has served over time.

TotalErrorRate: What fraction of requests resulted in an HTTP error (4xx or 5xx).

OriginLatency: The average latency to fill cache misses from origin servers.
Access the real-time logs associated with CloudFront Distributions by either (a) opening the "CloudFront Access Logs" dataset, or (b) selecting the "CloudFront Access Logs" dataset under the "Activity" tab of the "CloudFront Distributions" page (pictured).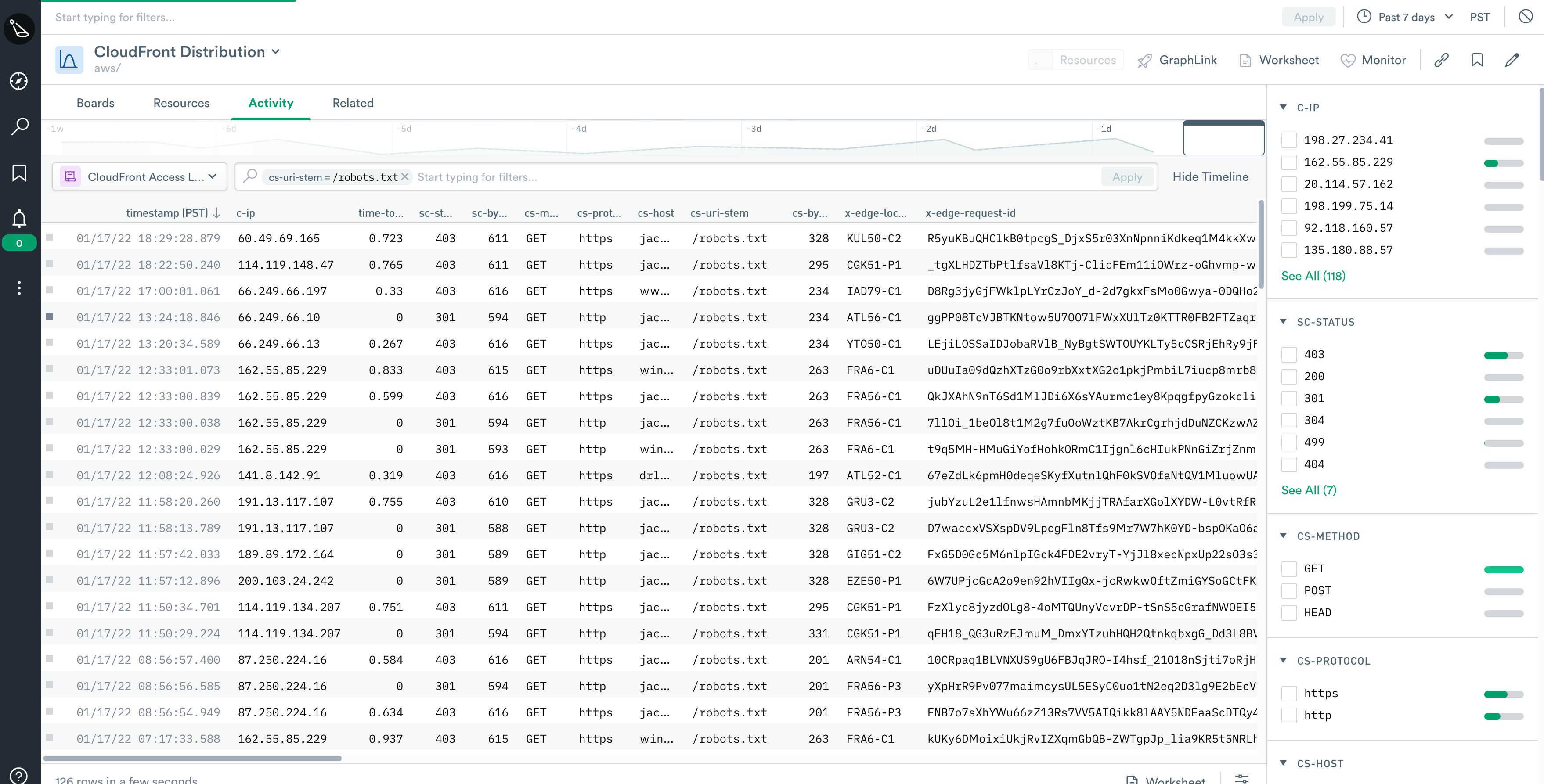 Similarly, inspect configuration events related to your distributions by inspecting the "CloudFront Distribution Events" dataset.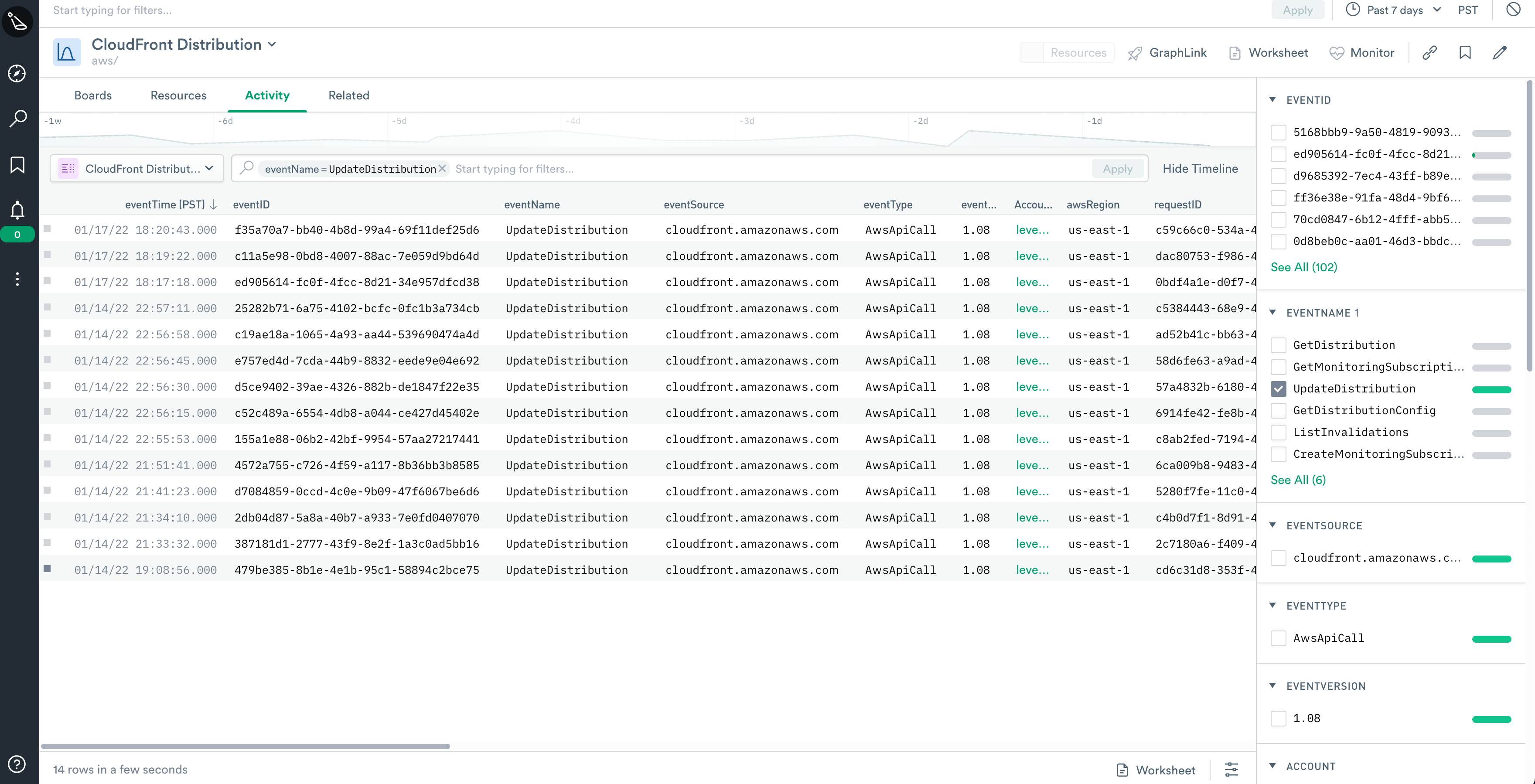 A handful of sample Monitor configurations are provided out-of-the-box. To create a Monitor based on a sample one, go to the "Monitors" list page and use the "Duplicate" option for your desired sample.